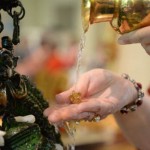 This is a rich devotional practice in which a statue of a deity is bathed and ritually dressed. A deity is a form of the Divine. The Divine is infinite and pervades everything, including us! Yet often, we are not able to see the Divine in ourselves, or in the immediate world around us, because of our conditioning. By offering our devotion to the Divine as it is found in the deity we are bathing, we start to remember that the Divine is everywhere. As we honour the Divine in the form we can see before us, we are also remembering, honouring and awakening the Divine within our hearts.
Although we use statues primarily from the Hindu tradition, you could do abhishekam with any statue, such as Jesus or Buddha. Pujas and abhishekam can actually be done to anything with the right intention, because the Divine pervades and permeates everything. The goal is to use the practice to clear the mind and then enter into a state of devotion and love for the Divine in all. You can use the object or deity that best represents that for you.
Visit the What's On calendar to view the puja + abhishekam schedule.
Mantras