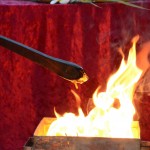 A Puja is a spiritual practice of devotion and communion with the Divine. It is a type of meditation in which you not only use your mind and energy to access a peaceful and blissful state, but also simple physical actions in the form of ritual. The rituals are extremely beautiful. They have rich symbology, which has a profound effect on our unconscious, helping us to let go of the restrictions we place upon ourselves and to simply allow the Divine within us to be and breathe.
At Shanti Mission America, we practice two main forms of Puja: Fire Puja and Abhishekam.
A Fire Puja or yagam, is a ritual that is comprised of a series of offerings to the Divine, which is represented as Fire. Fire is a fantastic representation of the Divine as it holds so many of the qualities we can relate to divinity, such as warmth, light, power, hope and life. As we make offerings to the Divine in the form of the fire, we are able to offer It our love. Focusing on the fire and the practice, we can forget ourselves and fall into an experience of deep, pervading peace and unity. We relax and regain our sense of wholeness. Often we are left with a feeling of gentle joy igniting in the heart.
Visit the What's On calendar to view the puja schedule.