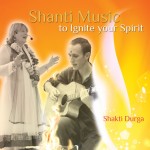 Music and sound are powerful tools for healing and transformation. The vibration of sounds can reach within your being and into your soul, helping you to let go of old, stuck energy and experience bliss and joy!
At Shanti Mission America we use songs and sacred music from many spiritual paths, including Christian, Buddhist, Jewish and Hindu. Our music is mostly based on ancient chants that have been repeated by priests, rishis, saints and rabbis for centuries. These chants and songs contain potent, spiritual energy for healing, and we find that incorporating them into spiritual practice facilitates more rapid transformation.
Spiritual music and chanting is also a great form of 'active' meditation. When singing these 'mantras,' you can allow your mind to become filled with the beautiful repetitions of the ancient, powerful sounds and let go of troublesome thoughts.
This creates a deep sense of peace and empowerment.
Shanti musicians are trained in nada shakti – the transmission of divine spiritual energy through music. They have featured at numerous international kirtan (devotional music) festivals.
Refer to the What's On calendar for upcoming kirtan events.
If you're interested in having Shanti Mission musicians play at your festival or event, we'd love to hear from you. Contact: music [at] shantimission.org
Shanti Music
In 2007 Shakti Durga launched Shanti Music, a transformational music label. Shanti Music has subsequently released a series of spiritually charged kirtan CDs, many featuring Shakti Durga's inspirational vocals, original collaborations, and contemporary interpretations of traditional kirtan chants. You can access these on Shakti Durga's website in the online shop.

"There is nothing like Shanti Music experienced live. They were a highlight at the 2011 BaliSpirit Festival. They had everyone up and dancing…"
Meghan Pappenheim, BaliSpirit Festival Director